Potential "unicorns." 5 meta-universe startups to watch out for
By 2024, the size of the meta-universe market will approach $800 billion, according to Bloomberg Intelligence analysts Matthew Kanterman and Nathan Naidoo. They predict that more than $400 billion will go to online games and gaming equipment, and the rest will be divided between social networks and entertainment (movies, concerts and sporting events).
Creating technology for the virtual world — A sure way to lay the groundwork for a potential «unicorn». And investors who invest in such a company have a good chance of significantly increasing their return on investment.
We tell you about 5 meta-universe startups that have successfully received seed round funding and are already collaborating with big companies.
#1. AllSeated organizes virtual events
The startup AllSeated was launched in 2015 in San Francisco. Originally, the founders just wanted to incorporate digital tools into event management. Users could view and change the seating plan in 2D, drag and drop different elements, adjust the guest list and seating chart.
Then the startup's creators discovered that when an event is displayed in 3D, it greatly increases sales of. So in 2018, a new Vision product came along that allowed AllSeated customers to visualize events in 3D.
According to PitchBook, the company raised $4.4 million in investment in February 2020, and investors invested another $7 million in AllSeated in May. At the peak of the epidemic, when all events went online, AllSeated presented the exVo — a virtual platform for events.
ExVo gave customers the opportunity to spend really «Hybrid» Eventing with the «emotional experience», where one person's avatar is able to interact with others. Participants can move around a virtual location, explore booths, visit conference rooms, meet, ask and answer questions in real time.
In November 2021, the company won two Event Technology Award 2021 categories at once — «The best new product for event technology» и «The best platform for online events with up to 1,000 participants».
AllSeated had already organized events with ExVo for Ford, Nexus, Gusto and other companies.
#2. Inworld AI Virtual Characters
Silicon Valley startup Inworld AI managed to raise $7.2 million in investment in November 2021. Previously, the co-founders were involved in the API space.AI, which was bought out by Google Corporation and renamed Dialogflow. This artificial intelligence platform understands natural speech and allows the creation of virtual speakers. Today it's — Part of Google Cloud AI and Google Assistant Developer Platform.
But the goal of the Inworld AI project is more ambitious — team is working on a platform that will create virtual characters capable of recognizing the environment and context in which they are. The assumption is that they could be used in a variety of virtual spaces, including the meta universe, VR/AR or games. In other words, such characters will become «by the natives» digital world.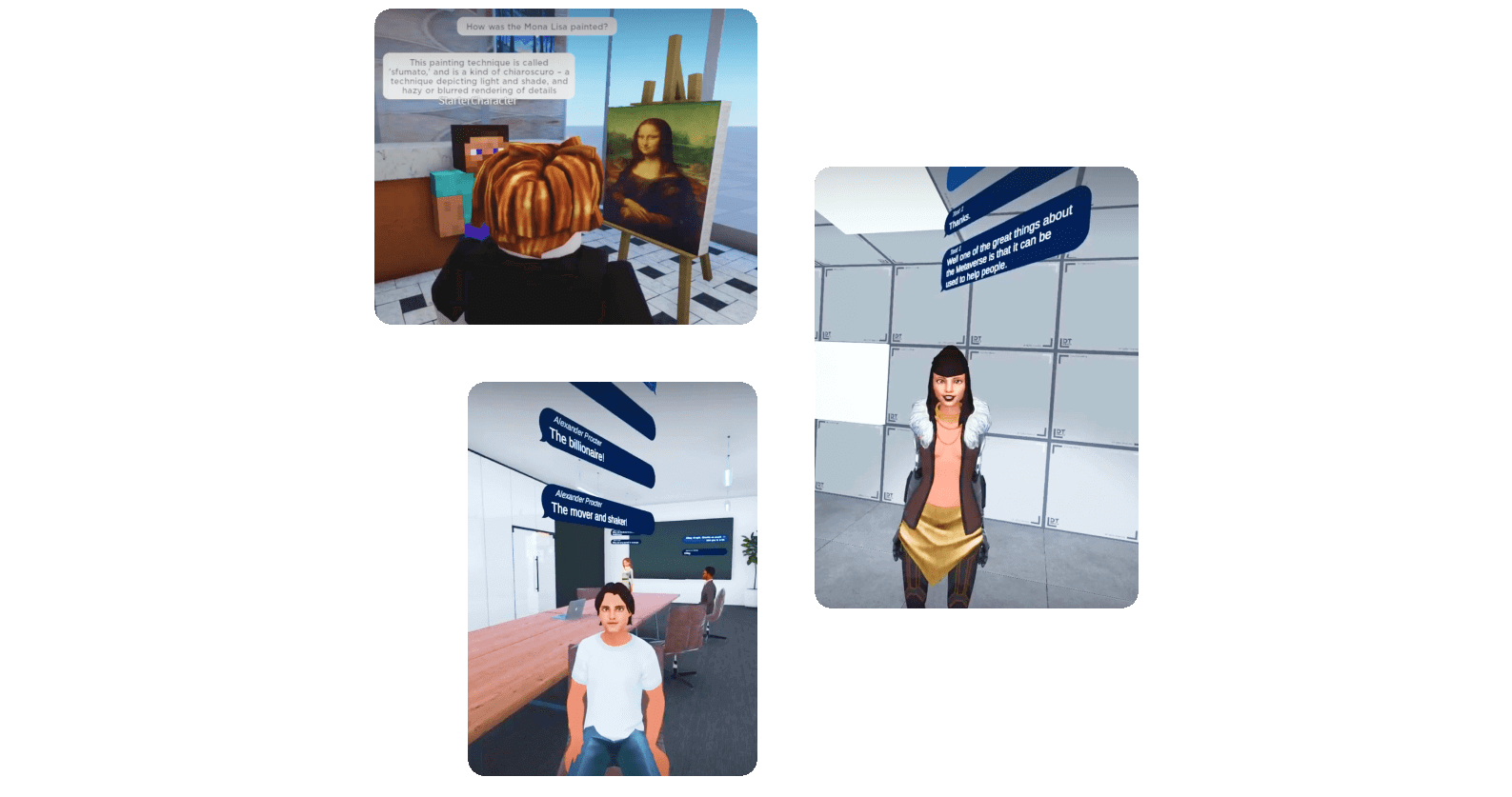 Virtual characters will recognize not only speech, but also facial expressions, gestures, emotions, and naturally reproduce them.
The launch of Inworld AI came at the height of interest in the meta-universe, when investors are still on the lookout for solutions that will allow brands to interact with customers in virtual environments. The newly formed startup is funded by Kleiner Perkins, CRV and even Meta.
#3. GuildFi's gaming platform helps players unite
Another line of business that will become part of the virtual economy, — is blockchain gaming. In early 2021, a startup called GuildFi was launched in Thailand with the mission of — To provide interaction between gamers in a meta-universe.